Visas & money
---
Visas
All visitors from most countries need a visa // It can be obtained directly on entry
A visa is required for citizens from most countries, including children. You can check if your country has a visa exemption here.
There are different types of visas. The main ones are:
Single entry: Good for most cases. It allows you to enter into Kenya once, and also for re-entry from other East African countries (Tanzania, Uganda, Rwanda, and Burundi). It is valid for three months. Single entry visa fee: USD 50.

Multiple entry: It allows you to enter multiple times into Kenya for up to one year. Multiple entry visa fee: USD 100.

Transit: If you have a connecting flight in Kenya and wish to enter the country during your stay, for instance if you have an overnight stop. You will not need a visa if you do not plan to leave the airport. Valid for three days. Transit visa fee: USD 20.
Visas can be obtained directly on entry for nationals of most countries except those listed here, who must apply for a visa in advance.
If there is a Kenyan diplomatic mission in your country, it is advisable to obtain your visa in advance. US nationals are supposed to do it through an online visa application form submitted either to the Kenyan Embassy in Washington DC or to the Kenyan Consulate in New York. In any case, in my own experience, having the visa in advance will not speed up your clearing through the immigration checkpoints at Jomo Kenyatta Airport in Nairobi, though it may give you some peace of mind for your vacations.
In order to obtain the visa you need a passport valid for at least six months from your date of entry. If you apply for the visa at your local Kenyan mission you will also need one or two passport photographs (not required if you obtain the visa on entry).
You can download the visa application form here.
Some of the information above can change over time. The official updated info can be found at Kenya Immigration Department's website.
It's a good idea to bring US dollars, but be sure to check the series' year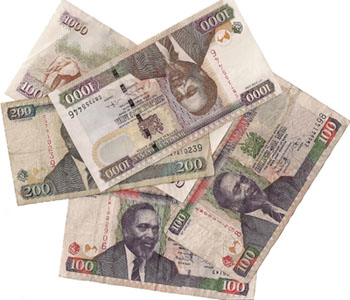 The national currency is the Kenya shilling (Ksh or KES). Each shilling is divided into 100 cents. Exchange rates are usually around 85 shillings to 1 US dollar, 110 shillings to 1 euro and 137 shillings to 1 British pound. You will find today's exchange rates at the column on the right hand side of this page. You can also get a printable sheet with conversions to your currency.
Many travellers choose not to exchange currency, but to withdraw local money from ATMs. However it is advisable to carry some cash in case you don't find an ATM or your card is not accepted. As in any other place, you will be able to change money at the airports, banks and hotels (in the latter you may be given a limit of USD 100 per operation). The best rates are usually found at forex bureaus in the city center.
The main banks in Kenya are Kenya Commercial Bank (KCB), Barclays Bank Kenya and Standard Chartered Bank Kenya. Opening times vary, but you should find any branch open on weekdays from 8.30 a.m. to 3 p.m. Some have extended opening times, especially those located inside shopping malls. Banks are usually open on Saturday mornings and some are open even on public holidays. Those at the airport are open 24/7.
Remember to keep the receipts of all exchange operations, since you may be requested to show them upon changing your shillings to a different currency, especially if you are extending your vacations to another country.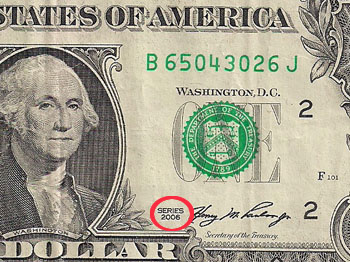 At least if you are travelling on your own, it is a good idea to bring US dollars, preferably 50 dollar notes and smaller. Entry fees to parks and reserves should be paid in US dollars by foreigners. If you ask for a conversion to shillings, you will lose money. And do not trust your euros: it is very likely that you will be given a 1/1 rate, which is not a fair deal.
Bear in mind the following IMPORTANT WARNING: US dollar notes with series older than the year 2000 are NOT accepted at forex bureaus or park gates. Apparently the reason is that the Bank of Kenya does not accept them because of counterfeiting.
It is advisable not to rely solely on your credit card. Cards are widely accepted, especially Visa, but in many places there are no 'point of sale' telephone terminals. In such cases you will be charged using an old carbon paper swiper after telephone authorization of your card. If your card cannot be authorized on the spot, you will not be allowed to pay with it, so be sure to bring enough cash or traveller cheques for your expenses. Remember to check your credit card charges once back home.