Moving around
---
Rented car
You are allowed to drive anywhere in Kenya, but take extreme care
Kenyalogy is a website made by someone who has been travelling to Kenya for more than 20 years, always driving on my own. You don't need to be a rover, an adventurer or a daredevil for driving in Kenya, just an experienced driver, no matter if you have never driven a four-wheel-drive before. Just be cautious and proceed with utmost care. Self-driving has some pros and cons.
Pros:
The sensation of freedom is unparalleled. And that's in essence what safari is all about.
You will go at your own pace, stop at your will and don't stop where you don't want to. Say farewell to those tourist-trap curio shops, and say hello to solitude and undisturbed sunsets.
You will be able to spend the whole day on game drives without having to pay any extras.
Finding animals by yourself is much more pleasant and fulfilling. It spells away that 'zoo sensation' of having them found for you.
Cons:
Maybe you will miss some animals. Professional drivers have a radio to share their findings with other colleagues. You don't.
You won't be the most popular guy in town. Many people in Kenya don't want you to travel on your own. For tourism authorities you are a stray sheep, for safari companies you are a threat to their business, and even pro drivers may blame you for 'stealing' their jobs (I've been blamed of such thing).
Yes, you will suffer breakdowns and punctures. But it adds some spice to the safari, as long as you are prepared for such eventualities.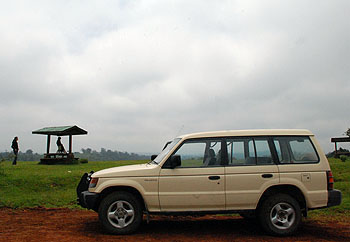 Now, if you would like to give it a try, here are some tips which I hope may help.
First of all, you need a vehicle. Remember to bring your driving license, maps, GPS and a cell phone. By all means get yourself a four-wheel drive that can switch between high gearing and low gearing. If you have never used this before, just ask the staff at the rental company to brief you. Whenever possible, ask for a car with a rooftop hatch for watching animals.
Concerning where to rent the car, in Kenya you will find big brands like Avis or Europcar. Prices for renting a five to eight seat 4WD (Mitsubishi Pajero, Toyota Land Cruiser or Land Rover Discovery) are usually very high, in the range of 15,000-20,000 KSh per day with unlimited mileage. A smaller car for 2-4 passengers, such as a Suzuki, costs up to 10,000 KSh per day. These rates do not include insurance.
Small local companies are sometimes very reliable and a better bet than the big brands. For years I have been renting at Rasul's in Nairobi. Their prices are much lower, around 3,500 KSh per day and 35 KSh per kilometer for a Mitsubishi Pajero. Their service is very good and attentive. The only drawback is that there is no office at the airport, so you will have to pick up and return your vehicle at their office in Nairobi.
When picking up your car, try to have two spare wheels. You will hardly get two punctures in the same day, but if you have two spares you can leave your punctured wheel at the workshop for repair while you go on a game drive with another spare in your trunk. Also, check that your car has a jack and a spanner. Spend some minutes learning how to use your tools to change a wheel, you will need these skills. Bear in mind that roads in Kenya are quite rough and most of the wheels have been repaired many times before.
Driving in Kenya is on the left side, as in many former British colonies. If you have never done this before, don't worry, you will soon get used to it. Pedals and gears are not simmetrically inverted, they keep the same position you already know. Just remember to change your mental representation of the car, since the bulk of it will be on your left side.
Most roads you will use outside the parks are paved, but they can be in bad condition, specially after a heavy rain season. Beware when crossing a town, even if it's just a line of shacks, since there are usually some nearly invisible (but quite rough) bumps that can shatter your suspension if you speed through them.
Always drive with utmost care. The accident rate in Kenya is bloodcurdling and many drivers are reckless. Matatus (minivans for public transport) and ghostly ramshackle buses drive at unbelievable speeds. Even if you have the right of way, be cautious. On the other hand, Kenyan roads are also used by many slow-movers, namely pedestrians, bicycles, old motorbikes and heavily loaded trucks crawling uphill.
Regarding crime and safety on the roads, read the page on safety issues.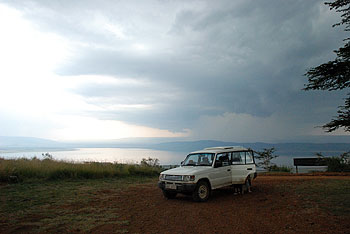 Driving in the parks is only allowed during daylight hours, usually from 6 a.m. to 7 p.m. Roads are unpaved. In addition to dirt or murram roads, there are networks of small tracks. Off-road driving is prohibited. Driving through most parks is easy, except after heavy rains. In the parks section you will find more details concerning each park.
Navigation is critical when driving on your own. Signposting along the roads is erratic. Maps and a GPS are essential. You can make free use of my waypoints collection. Bring a magnetic compass, it will never let you down. If in spite of all you get lost, just ask someone. Most Kenyans in the safari area speak some English and will be willing to assist you. Try to learn some Swahili words; this will help.
If you get a puncture, just change the wheel and seek a place to repair the damage as soon as possible. Many lodges at the parks have a workshop. If your lodge doesn't, ask the staff or the park rangers for directions.
If you have a breakdown which you can't repair by yourself in a solitary place, don't panic. Use your cell phone to call your rental company and they will instruct you on what to do. You may like to know about the Automobile Association of Kenya. For only 1,500 KSh you can purchase a temporary membership for six months that will entile you to receive help when you are in trouble. Just be sure to check with your rental company that you are allowed to hire this service.
Make sure to travel always on a full tank, since roadside gas stations are only found in or close to cities or big towns. There is gas available at some lodges, just ask the staff and they will help you. Fuel is expensive in Kenya, and prices are even higher at the lodges. Carrying a jerry can filled with fuel will give you some peace of mind.
If you travel with children, bear in mind that you will possibly get no children's seats. You will have to make do just with the safety belts.
It is possible to cross the borders with a rented car. Just ask your rental company, since they will surely charge an extra.
This is the most popular choice for those who want no worries
A vehicle with a driver cannot be usually hired unless you buy a full package tour. You can arrange your trip through your local travel agency, which will transfer you to one of the on-site safari operators. In this case you will share your trip with others who may have purchased their safari through a different travel agency, and possibly at a different price.
Another option is to buy your own flight tickets and get in touch directly with a safari company located in Kenya. This may be advisable if you are looking for a specific kind of safari, e.g. birding safaris.
You may buy a private safari with your own driver/vehicle, just for your party and on a custom-made itinerary, but this option is more expensive than joining a bigger group on a standard trip.
Whatever the case, travelling on a vehicle with a driver is the preferred way for most visitors to Kenya. Still, it has its pros and cons.
Pros:
Hakuna matata. You don't have to worry about driving or the eventual breakdowns or punctures; local drivers are experienced in car mechanics.
Drivers know perfectly the parks and roads, so you will never get lost.
You will have the most chances to see all the animals, including the big five. Drivers know the suitable places for finding wildlife and they keep radio contact with other drivers to share the info.
Your driver will serve as a Swahili interpreter whenever necessary, and he will brief you on wildlife or the tribes and their cultures.
Cons:
You will have no freedom of movements. You cannot choose your own pace and schedules, and you will have to stop at that curio shop, like it or not.
For the driver, more animals mean higher tips, so he will not let your eyes linger on that leopard up the tree. As soon as the pictures are taken, he will be racing elsewhere in no time.
Drivers and guides have their working times. You will get two daily game drives included in your price, at dawn and before dusk, and possibly a third one at midday. The rest of the time you will remain at the lodge. If you want any extras or a full day game drive, you will have to pay separately for this, but even in this case it may not be possible unless prearranged. Some lodges have their own safari vehicles and offer game drives, but at very costly rates.
Most middle-priced safari companies do not use 4WD vehicles, but 9-seat minivans instead. All of them have a rooftop hatch for wildlife viewing, but minivans are not so versatile and cannot drive through certain areas. For instance, Aberdare National Park is for 4WD vehicles only.
You cannot depend solely on this for safari
Relying just on public transport for a safari in Kenya is not feasible. The main reason is that a car is required to visit the most popular parks, with the only exception of Mount Kenya. In the rest of the parks, leaving the car is forbidden except in specially designated areas, which are only a few.
Taxis can be an option only for visiting parks that are close to big cities, namely Nairobi and Nakuru. Cabs are expensive and this is not either the most practical way to travel or to visit the parks. Whenever you take a taxi, ask for the price beforehand. For safety reasons, it is advisable to prearrange taxis with the staff at hotels or restaurants. You can book a taxi for Nairobi by phone or even online from JimCab. Their service is very reliable and prices are much lower than requesting a shuttle from your hotel.
Matatus are the most popular way to move around for Kenyans. They are minivans like the ones used for safaris, and they cover regular lines connecting all towns. They usually belong to SACCO co-operatives (Kenya's SAvings and Credit COoperative). The name 'matatu' comes from the Swahili 'tatu', which means "three", since the traditional fare was 3 KSh (not any more). They are uncomfortable, crowded and drivers are reckless. If you take one of them, watch for your belongings.
Buses connecting cities are operated by private companies. This is the cheapest way to move in Kenya. They are partly responsible for the high accident rates in the country.
Railways in Kenya have been largely neglected for decades. Seeking for an improvement, the state-run Kenya Railways Corporation granted a concession to the private South African company Rift Valley Railways to refurbish and operate the lines. The only services currently in operation are commuter services in the greater Nairobi area and the long distance Nairobi-Mombasa line, famously known as the Lunatic Express, where two rogue lions named the man-eaters of Tsavo took the lives of many workers during the construction of a bridge over the Tsavo river. Today the Nairobi-Mombasa line is called the Jumbo Kenya Deluxe. First, second and third classes are available. Trains run from Nairobi to Mombasa on Monday, Wednesday and Friday, and from Mombasa to Nairobi on Tuesday, Thursday and Sunday. Departures are at 7 p.m. and trains arrive at 10 a.m. the following morning after a 15-hour trip at a maximum speed of 60 kph. Fares can be found here. Tickets can be booked through East Africa Shuttles or Kenya Train Booking.
Rift Valley Railways has promised to open soon the line from Nairobi to Nakuru and Kisumu, but there are no details available, and there was no reply whatsoever from the company when asked by Kenyalogy.
Domestic flights can be a good option for long distances. The flag carrier Kenya Airways flies from Nairobi to Mombasa, Kisumu, Eldoret, and Kilimanjaro in northern Tanzania. Some other airlines operate domestic flights. Jetlink, 540, and ALS fly only to cities and towns, whereas other companies like Air Kenya and SafariLink cover airstrips in national parks and reserves. Some of these airlines use Wilson Airport, Nairobi's second airport. In addition, there are a number of charter air taxi companies that can arrange your private air safari at reasonable prices.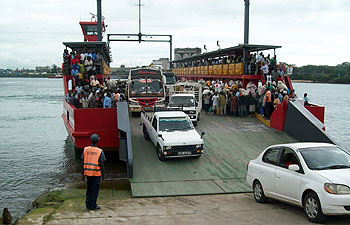 Same as railways, ferry communications in Lake Victoria collapsed after several mishaps and bad maintenance. The US-based company Earthwise Ventures is announcing future ferry connections among the main lake ports in Kenya, Uganda and Tanzania.
Besides this, arguably the most popular water transport in Kenya is the Likoni ferry, which you are bound to take if you travel south from Mombasa, since there is no bridge out of the island in that direction (it is the inlet to Mombasa port). The ferry operates 24 hours a day, 365 days a year, with a frequency of 10 minutes at peak times (more info on schedules here). It is free for pedestrians and costs 60 to 90 KSh for cars (detailed tariffs here). It only takes 10 minutes for the boats to cover the 500-meter distance, but the wait can be much longer at rush hours when the service is crowded.
Other than ferries, there are recreational boat tours at the coast and at some smaller lakes like Naivasha and Baringo.