Food
---
Typical dishes
Local specialties are quite basic, except for the Swahili cuisine with Arab and Indian roots
Don't expect your safari to be a gastronomic delight. Kenya is a remarkable country concerning many other aspects, but not food. Bantu-rooted African cooking is rather basic both in ingredients and making, with just some rustic staples that are repeated once and again. Only the Swahili cuisine, originated at the coast but spread throughout, is somewhat more sophisticated and shows its own personality with a mixture of Arab and Hindu influences adapted to the local raw materials. European contributions are also widespread, specially the British tastes.
Meat is the star of Kenyan cooking, mainly beef, veal, goat and lamb, and to a lesser extent pork and chicken. Molo lamb is very appreciated. Meat is stewed or grilled and is usually garnished with potatoes, rice or vegetables. The most popular way of cooking meat is the Kenyan version of BBQ called nyama choma, which in Swahili means 'roast meat' and can be found in popular joints everywhere.
Kebabs are very popular, imported from the Arab cuisine but adapted to the local raw materials. Same goes for sausages made with veal at local eateries, since Muslims do not eat pork, but pork sausages are usually found at tourist places such as hotels and lodges.
Fish is much less to be found than meat, except near Lake Victoria or at the ocean coastal areas. Freshwater fish is more popular, especially tilapia and Nile perch. Trouts are captured in the mountain rivers and served at lodges and restaurants in the Highlands. At the coast you may find some seafood.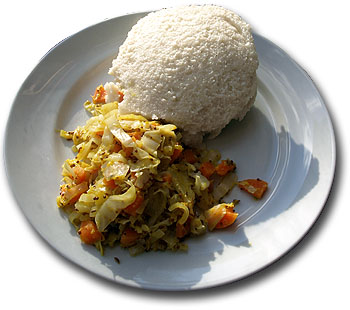 There are several kinds of dough, which are made mainly from corn in various ways. The main staple is Ugali, imported from Uganda. It consists of boiled corn flour balls, with a texture similar to bread. Sometimes the dough is mixed with butter, cheese or milk to make it more tasty. The balls must be eaten hot, garnished with vegetables and pieces of stewed meat.
Samosas, a typical Indian and Arabian snack, are small dough rolls stuffed with spiced meat or vegetables and fried. Some drops of lime juice are finally added. The dough preparation is very laborious, so ready-made dough is sometimes used.
Chapati is the flat Indian bread, similar to pita or Mexican tortillas. They are made with corn flour. They can be soaked in the breakfast coffee, though frequently they are prepared in a similar way to the sweet American or European pancakes.
Mandazi, usually considered the East African doughnut, is a bun which can come in various shapes and is usually served with coffee.
For dessert, you can try some tropical fruit, just straight or in a salad. Pineapple, banana, papaya, mango, passion fruit, tamarind, coconut, guava, orange, lime, cherimoya, melon, and watermelon are to be found throughout the country, even from roadside vendors.
The British heritage also shows in the kind of pastries served at hotels, restaurants and lodges.
Tea, coffee and beer are the most popular
Coffee and tea are produced in Kenya and are both excellent, making up a good part of the country's exports. As in all former British colonies, tea, or chai in Swahili, is an essential. It is widely cultivated in the Highlands and is usually served with milk and sugar. If you prefer coffee, ask for kahawa. Kenyan coffee is very good and one of the main export products. It is usually served with milk.
Beer is the national drink, specially the Tusker brand with its elephant label that has become almost a logo of Kenya itself. It is a pale lager and is usually served cold in half liter bottles. Another popular brand is White Cap, belonging to the same company, East African Breweries Limited.
Wines served at restaurants are mainly South African, European or North American. At the Lake Naivasha region there are some vineyards which are used to make a reasonable white wine, but local red wine is terrible.
Spirits and liquors are widely available at restaurants and lodges. I used to love a coffee liquor called Kenya Gold, made from Kenyan coffee, but I have been told at several outlets that it's not available any more. As a replacement, there is another coffee liquor named Kahawa.
At many lodges and hotels you will find champagne for breakfast, a reminiscence of the good old 'Happy Valley' days. In the maasai land it is mixed with orange juice for a good morning shot. Champagne is also served in bush breakfasts after a balloon flight.
Finally, a home brew called changaa or chang'aa is produced mainly in the slums of Nairobi. Toxic substances like battery acid, jet fuel or embalming chemicals are frequently added to give it a stronger punch, and the poor hygiene conditions usually result in contamination of the brew with fecal matter, bugs and rotten vermin. Each year many Kenyans die or lose their sight due to the methanol (wood alcohol) included in this African moonshine. Although the Kenyan Government has legalised the production of changaa in an attempt to put it under sanitary control and take it away from the hands of criminal gangs, the fight goes on. You will hardly hear about this unless you are an aid worker, but just in case, never try it.
You can eat at the best places for less than 3,000 KSh
In Nairobi you will find all kinds of restaurants with cuisines ranging from European to Asian. Some of the best are located inside the international chain hotels. Prices are really cheap compared to their American or European counterparts. You can dine at any top restaurant in Nairobi or Mombasa for less than 3,000 KSh, an amount you would spend at a popular restaurant in Europe or the United States. However, their prices are only affordable in Kenya for expatriates and the local middle and high classes.
There are a couple of places you will surely hear about. They belong to the Tamarind Group, which has restaurants in Nairobi and Mombasa, specialising in fish and seafood. The latter is located in a terrace overlooking the ocean opposite to the island, at the north shore of the channel. The grilled lobster is delicious. Also in Mombasa there is Tamarind Dhow, a floating restaurant on board a dhow (traditional Arab boats) that sails along the coast while customers have supper.
If you travel on a package tour you will hardly get away without dining at Nairobi's The Carnivore, the most popular restaurant with tour groups. It also belongs to the Tamarind Group and specialises in meat, not just the classical types such as veal or beef but also some exotic animals, like zebra, wildebeest, game antelopes or even crocodile.
Meals are usually buffet-style and of average quality // Lunch boxes are atrocious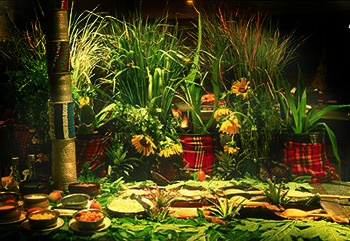 The lodge food quality is generally in accordance to the lodge quality, but don't expect a gastronomic feast. In general, lodges offer buffet meals with just acceptable cooking. The best quality is sometimes found at clubs like Mount Kenya Safari Club, where dinners 'a la carte' can perfectly match any of the top restaurants in Nairobi or Mombasa.
If you travel on your own in a rented car, an interesting option is to order lunch boxes on the previous day. All lodges offer this service and this will enable you for a full-day game drive, which is the only practical way to wholly explore the bigger parks like Masai Mara or Aberdare. Picnic sites are usually available.
Mind you, if food quality at the lodges is just okay, lunch boxes are definitely terrible even at the priciest accommodations. You will hardly get anything more than a cucumber and butter sandwich (that awful British classic), a boiled egg, a chunk of rock-hard roasted chicken and some meager pieces of fruit.