What to pack
---
Bags
Choose the kind you feel comfortable with, but stay off flashy and expensive suitcases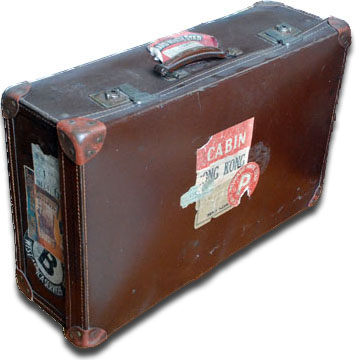 Everyone's got a right kind of bags for reasons only he or she understands. But regardless of what others may tell you or try to make you buy, there is no such thing as THE type of bag to go on safari. Just bear in mind the following tips:
You don't usually need a backpack unless you are travelling on foot, on a bicycle or on public transport. On a regular safari you will be travelling in a minivan or a 4WD, and actually most national parks can't be accessed without a motor vehicle (except Mount Kenya). If you are planning to camp, you must bring your car with you to the camp site. Even if you are planning to hike, you will normally have the chance to leave your bulk luggage at your previous lodge stop.
Even at the lodges, you'll never have to carry around all your bags by yourself. Porters are available at all Kenyan lodges and they will be happy to earn their tips helping you with your stuff.
Roads in Kenya are dusty, and dust gets everywhere. Safari drivers usually carry blankets to protect the luggage, but this is a good reason not to bring expensive and fancy suitcases. If you are driving on your own, don't forget to pack a couple of old blankets or sheets.
Another reason to avoid flashy bags is that they may result too enticing for anyone that might wonder what's inside. This may be a general rule for travelling, but Kenya has a high crime rate.
If you are staying at one of the mountain lodges, like Treetops or The Ark in Aberdare National Park, you should know that these lodges have a special regime. Your baggage will stay at the base hotel (Outspan for Treetops and Aberdare Country Club for The Ark) and you will only be allowed to carry one handbag or backpack per person, so remember to bring a spare small bag.
As an experienced traveller, some years back I decided to spend no more on 'good' suitcases that are supposed to last a lifetime. They don't. After a few years of airport handling and road travelling, the best bag gets ruined. My personal choice is to buy the cheapest set of suitcases at my local superstore and to give them an honorable retirement (as home drawers) once they've done their job.
All the way from tank tops to polar fleece, you'll need everything
Okay, safari clothing is cool, and true that khaki colours help to conceal the dust that will stick all over you. But that's all about specialised garments. If you fancy yourself on safari as one of the characters in 'Mogambo' or 'Out of Africa', you'd better think about the car chases through the streets of San Francisco in 'Bullit'. On safari you will spend most of your time riding on wild roads and bumping your rear part against a vehicle's seat, so you'd rather avoid tight-fitting clothes and choose loose cotton or linen. Yeah, some people prefer sports clothes. But that's oh so coarse.
If you have already read the weather page, you will know by now that Kenya can be a cold place by night and on the wee hours. From your early morning game drive to midday the sun can make quite a difference, so it is advisable to dress by layers you can take off when the sun sets in. Pants with zip-off legs can be handy, and you will need a warm sweater or polar fleece for those chilly hours. Another reason to cover your arms and legs after sunset is to prevent mosquito bites. And definitely add some thermal clothing if you are visiting Aberdare or Mount Kenya. Mountain lodges like Treetops and The Ark provide spare blankets.
That said, be sure to pack your light clothing as well. Midday sun can be scorching in places like Samburu or Tsavo, so you'll want to have your shorts and T-shirts or tank tops at hand. And don't forget your bathing suit, since many lodges have a swimming pool.
The dress code for dinner of the old safari days is not operating any more in most lodges, where you can dress at your will at any time. Only a few places like Mount Kenya Safari Club still keep the remains of a dress code for dinner, but fortunately no black tie needed. You will be asked to dress smart casual, which means no shorts, jeans, sneakers or T-shirts.
Most people bring a hat or cap, but actually they are of little use, since you will spend your longest hours sitting inside a vehicle. Conversely, if you are a female, you will find it much more handy to bring a piece of cloth such as a scarf, bandana or shesh to cover your hair, since otherwise it will end up every day seriously knotted and tangled due to the dust. These accessories are also essential to protect your nose and mouth when driving through dusty roads.
Last but not least, even in the dry season rain can show up anywhere, particularly in Masai Mara, on the mountains and at the coast. Bring a light waterproof jacket or poncho.
Unless you're seriously hiking, just bring comfortable shoes
Same as for clothing, you will rarely need real safari boots, let alone hiking shoes unless you are planning to really use them. That said, if you wish to just walk in style, Bata boots are a safari classic, though you can also find specialised technical footwear with a more sporty look.
The basic rule for shoewear is to wear whatever makes you feel comfortable when seated inside a vehicle and walking short treks, since the regular safari does not require a lot of walking. A thick sole is a must, since it will keep your feet safe from the hard and spiky acacia thorns lying on the ground.
Do include at least a second pair of comfy shoes, sandals or flip-flops for those lingering evenings drinking your sundowner at the lodge's bar or by the swimming pool. One of the greatest pleasures of mankind is to take off your shoes when you get back home, and on safari you will pretty much enjoy this.
Now, one only for the girls. Maybe Ava Gardner's high heel sandals in 'Mogambo' were not the most likely choice for safari. But if you are the kind that likes to dress up for dinner and you are using a DEET-based mosquito repellent, you will need to spread the lotion on your feet if you are wearing open shoes or sandals. In this case, make sure your shoes are not made of plastic, since DEET will melt plastic.
Beware of the sun and don't forget your wet wipes
Don't bother yourself with fantasies about dangerously close encounters with wildlife. While on safari, your worst enemy is not hiding in the bush, but high up in the sky. Remember you will be sitting on the Equator. Even in overcast days, and even if you are not light-skinned, a couple of hours under the sun without protection and you'll be roasted. Bring your sunglasses, sunscreen with a high protection factor and an aftersun lotion.
At the lodges you will find shops that sell all the basic toiletry items, but prices are high, so you'd better bring everything you need from home. If you plan to camp, don't forget your toilet rolls. For all purposes, wet wipes are the most essential item for safari, only second to your passport.
If you use glasses, remember to bring a spare pair to cover contingencies in case they get broken, since you will not be able to find a replacement away from Nairobi. And if you use contact lenses, don't forget your glasses and bring plenty of your cleansing solutions, since dust can be a nuisance.
Packing some mosquito repellent is advisable, but this is up to each one's tastes and sense of danger. For more details on this and other health-related issues like malaria prophylaxis and first aid, read the health section.
Yes, your cell phone will work here
In Kenya there is a good network coverage for cell phones throughout the safari regions, even at isolated locations like Masai Mara. The main mobile operators are Safaricom, Airtel, Telkom Orange and yuMobile.
If you wish to use your smartphone as a GPS, you'd better not rely solely on built-in directions and maps. Kenyalogy includes hundreds of free Kenya GPS waypoints you can use. You may need an app to upload user GPS waypoints to your smartphone.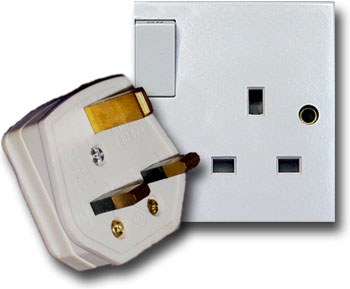 Whenever you need to plug in your devices and battery chargers, bear in mind that some remote lodges and tented camps lack connection to the power grid and rely on their own generators. In such cases power may be switched off during the daylight hours and through the night. In some tented camps you will possibly have to use the sockets at the mess or dining tent.
Electric current is 220-240 volts and 50 hertz. Sockets are British-type (type G), with three rectangular blade pins like the one depicted on the image. If you come from a country where two round pins are used, as in the Europlug, and you don't have an adaptor plug, you can hack the socket by inserting a screwdriver or the cap of a ballpen in the middle hole (earth) to open the shutters of the other two connectors. However keep in mind that you will have no fuse in case of a power surge.
If you are concerned with mosquitoes you can bring a plug-in electric insecticide, but once again check the power times at the lodge. Some of these devices are battery-operated, which makes them useful for camping (camp sites in Kenya have no electricity whatsoever).
Binoculars are essential, but don't choose them too powerful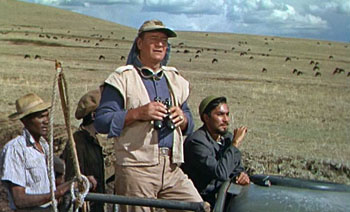 No matter if you are driven, you should like to know where you are and what you are seeing. Kenya maps and guidebooks, as well as safari field guides, can be purchased at your favourite online bookstore before your trip.
For specific maps of national parks and reserves, which you will definitely need if you are self driving, you will have to wait and buy them in Kenya. They are available at some park gates, but don't trust on this. You'd be better off buying them wherever you spot them, like at the lodges' stores or at bookshops in Nairobi. For some parks there are two or even three different published maps. Buy them all; they are not always accurate.
Include in your luggage a pair of binoculars for you. This means each person must carry his or her own pair, since there is usually no time for recalibrating to each one's eyesight. Binoculars are described by two numbers, for instance 8x40. The first parameter corresponds to magnification (8x) and the second one to the objective diameter in millimeters (40 mm). Bigger diameters give a brighter and sharper image. You will hardly need a magnification greater than 10x, and the more powerful ones will be way too shaky when hand-held. Binoculars for wildlife viewing are usually in the range of 8x40 to 10x50. The ones I use are Bushnell 10x42 which are waterproof and fogproof.
Flashlights and/or head lamps are necessary in many situations. They are a must if you travel on your own, let alone for camping. But even travellers on package safaris will find them useful, since in some lodges electricity is only available at certain times. Bring spare batteries and add some chemical glow sticks if you are travelling on your own.
If you are self driving, you will absolutely want to carry a GPS. Park maps are not always accurate and it is easy to get lost. Choose the outdoor type, preferably Garmin or Magellan. Here at Kenyalogy you will find hundreds of free Kenya GPS waypoints for you to upload to your device. But even if you are carrying a GPS or the best smartphone available, remember to bring a simple no-batteries-needed magnetic compass. It can save your day when everything else fails.
Concerning camping gear, you don't need to bring everything from home. Given the strict weight limits for baggage when flying, you can get rid of some load if you buy some of your stuff on site (e.g. kitchenware and crockery) at the supermarkets in Nairobi like Uchumi and Nakumatt. At the bigger branches, like Nakumatt Mega in Uhuru Highway opposite to Nyayo Stadium (see map), you can also buy Camping Gaz canisters.
Finally, if you will be camping, bear in mind that your access to electricity may be restricted. Be sure to carry car power adapters for your essential electronics, namely cell phone and GPS.
Here's a (printable) hand to help you pack for your safari!
What you will find below is my own packing checklist, the one I use when I go on safari. Maybe some of the items listed will be useless to you, and maybe things you consider essential are not listed. But besides the PDF version for downloading and printing, there is also a Word document you can modify to make your own custom list to suit your needs. Hope it helps. Karibu na safari njema!