Parks & reserves: Aberdare National Park
Camping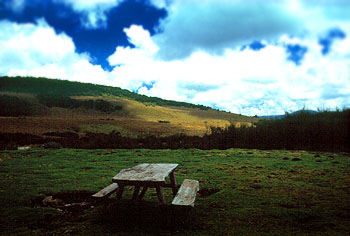 Camping in the park was restricted when at the beginning of the 80s some campers were attacked by lions. Apparently, the attacking animals were several semi-tame lions that have been used for movie productions, and that had become familiar with humans, although it is also possible that these lions encroached the rest of the population that then had to modify their killing habits. Those incidents resulted in the prohibition of camping outside the Salient area (where Treetops is located) and in limitations for walking through the high moorlands. The lions involved were culled and no further attacks have taken place since then.
The Reedbuck public camp site (in the image), relatively new and close to the Fishing Lodge, is now the only authorised camp site in the high moorlands. It provides water, firewood, toilets and rain shelter, but there is no food, so do not forget your own supplies. Public camp sites at Chania Falls and Queens Banda, closed in the early 90s, seem to be open now.
In the Salient area there are eight special camp sites, one in Prince Charles, two in Kiguri and five in Muringato. Camp sites should be booked when paying for your entry to the park with your Safari Card.