Parks & reserves: Safari itineraries
Two weeks
A period of two weeks is the minimum for a full safari with enough time to explore the most important parks and reserves. Bear in mind that going on safari is not merely having someone show you a lion; you can have this at the zoo. As much as it is about spotting animals, the safari experience is about finding them by learning and understanding what they like and where they go to get what they like, and this takes time. Also, the framing Kenyan landscapes deserve an unhurried exploration for their full enjoyment.
In two weeks you will have time for my most recommended itinerary, an essential safari covering the most popular parks. Alternatively, if you don't mind rushing from one place to another, you can make an extension to the Rift Valley lakes. Finally, if you are a romantic spirit, choose the explorer's route and discover Kenya starting off from the coast in the style of yesteryear travellers.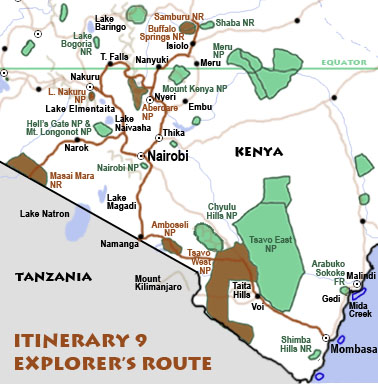 If you start your trip from Mombasa, Kenya's port at the Indian Ocean, you will have the chance to experience the country the way old explorers did. From the humid tropical coast you will climb up the Eastern Highlands to discover the Taru desert, the impenetrable thornbush arid savannah that prevented so many travellers from wandering into Kenya's fertile Central Highlands until a route was finally opened with the construction of the railway famously known as the Lunatic Express. Here you will find the huge expanse of Tsavo National Park East and West, and you will cross the world's longest lava flow, the Yatta Plateau, before spotting the majestic snowy head of Mount Kilimanjaro and reaching the cooling swamps of Amboseli National Park.
The only drawback of choosing this itinerary is that you are bound to rent your car in Mombasa. Alternatively, perhaps you might like to make the Mombasa-Nairobi leg by train and rent the car in Nairobi, but in this case you will skip the stops at Tsavo and Amboseli.
Though some variations to the itinerary are possible, my preferred choice is to leave Masai Mara as the last stop for a grand finale. The itinerary includes a two-night stay in Aberdare National Park, which will allow you to enjoy the night experience at Treetops and yet have another day to explore the park on your own.
DAY 1: Mombasa - Tsavo West NP
Lodging: Kilaguni Serena Safari Lodge
Camping: Chyulu
DAY 2: Tsavo West NP - Amboseli NP
Lodging: Ol Tukai Lodge
Camping: Group Ranch
DAY 3: Amboseli NP
Lodging: Ol Tukai Lodge
Camping: Group Ranch
DAY 4: Amboseli NP - Aberdare NP
Lodging: Treetops
DAY 5: Aberdare NP
Lodging: Outspan
Camping: Reedbuck
DAY 6: Aberdare NP - Samburu NR
Lodging: Samburu Intrepids
Camping: Butterfly
DAY 7: Samburu NR
Lodging: Samburu Intrepids
Camping: Butterfly
DAY 8: Samburu NR - Lake Nakuru NP
Lodging: Lake Nakuru Lodge
Camping: Makalia Falls
DAY 9: Lake Nakuru NP
Lodging: Lake Nakuru Lodge
Camping: Makalia Falls
DAY 10: Lake Nakuru NP - Masai Mara NR
Lodging: Mara Serena Lodge
Camping: Sand River
DAY 11: Masai Mara NR
Lodging: Mara Serena Lodge
Camping: Sand River
DAY 12: Masai Mara NR
Lodging: Mara Serena Lodge
Camping: Sand River
DAY 13: Masai Mara NR
Lodging: Mara Serena Lodge
Camping: Sand River
DAY 14: Masai Mara NR - Nairobi
Lodging: Fairview Hotel